Click Here
---
Summary
Unbridled Cowboy is a riveting firsthand account of a defiant hell-raiser in the wild and tumultuous American Southwest in the late 1800s. At the age of fourteen, Joe Fussell hopped trains to escape from school and the authority he scorned. Joe became a roving cowpuncher across the Texas territory, tilling the land, wrangling cattle, and working in livery stables, moving on whenever his feet began to itch. In a time and place with no law, the young cowboy exacted revenge on those who trespassed him or those who abused authority. Joe recounts tales of cowboy adventures, narrow escapes, and undercover work as a Texas Ranger and life on the railroads. A spark of his wild cowboy spirit remained even after he went to work on the railroads and rose to the position of yardmaster.
Joe's unadorned prose is as exposed and simple as the wide open Texas plains. His unpretentious, unique voice embodies the spirit of the old West.
While making preparations to break camp one afternoon a couple of young Mexicans we knew (they were fellow employees) showed up at our camp, ate dinner with us and extended a pressing invitation to a baile, a dance, to be held in the nearby pueblo that night. I did not want to go because I knew Mexicans had no love for gringos in general and for Texans in particular. And I figured they thought we might create trouble by blaming them for slaughtering cattle that belonged to our outfit. I was afraid they were setting a trap we'd be walking into and end up murdered.
I told Art I did not want to go and tried to persuade him against the idea. I told him how I felt about the whole thing, the dangers of exciting the jealousies of both sexes, and the ease with which they could kill us both, bury our bodies and make sure no report of their crimes would reach the ears of our boss. But he insisted on going and having a whirl with the senoritas. We postponed moving camp, and over my protest, went to the baile. I went because I didn't want him to go alone.
After we ate at the camp fire, we saddled fresh horses and rode forth in our work clothes - chaps, boots, spurs and six-shooters inside our shirts – Art, the trouble hunting "Don Quixote" and me, his "Sancho Panza," the simple and faithful.
We arrived at the baile and acting on my suggestion left our horses in a secluded spot apart from all the other horses and entered the hall which, as I remember, was a room about twenty feet square. The young men who had extended the invitation made themselves most agreeable, introducing us as their guests and seemed overly anxious to have us enjoy ourselves to the utmost. Art entered into the spirit of the festivities whole-heartedly and immediately started a flirtation with a very attractive senorita. Suspicious of a trap, I warned him, a time or two, against any indiscrete act.
He ignored my warnings and monopolized the time of the coquettish senorita. I soon noticed trouble brewing and, at the first opportunity again warned him and suggested we depart for camp. Again he spurned my warning saying he would show the "chili pickers" a few tricks in lovemaking and make them like it.
Knowing the storm was about to break I put my back near the only entrance to the hall and waited. It wasn't long. After a dance Art escorted his lady to a seat. As he turned away, a young man approached him and began a conversation, while another stepped in behind Art and reached in his sash for a stiletto.
I pulled out my six-shooter and called to Art to look out behind him. He jumped aside, pulling his six-shooter and faced his antagonist whose arm was raised ready to strike Art in the back. Art shot the Mexican twice.
Reviews
"[O]ne of the most compelling memoirs I have ever read….I had come to like the old rascal by the end of the book….[A]powerful ending." —Mike Cox, author of The Texas Rangers: Wearing the Cinco Peso, 1821-1900
"Arguably, this is one of the finest personal reminiscences of life in the American West….riveting"—Alfred Runte, author of Allies of the Earth: Railroads and the Soul of Preservation
Author's Biography
E. R. Fussell was born in Peru to American citizens and moved back to the United States at the age of five. He received his law degree from Loyola Law School in Los Angeles and began practicing law in California. Since 1972, he has practiced law in his hometown of LeRoy, New York.
Joseph B. Fussell was born in Tyler, Texas, in 1879, the son of a cowboy and buffalo hunter. Fussell trekked most of the Southwest and worked as a cowboy, livery stable operator, and at other jobs. When he was a ranch hand in northern Mexico, he barely escaped the fate of his American friend who died at the bottom of a well. Fussell worked as an undercover Texas ranger before beginning his railroad career. With little formal training, Fussell wrote his riveting memoir about real life in the West at the turn of the century. He died in 1957.
[ add comment ]
|
permalink
---
Glenn,
Rick Albin is my friend, and he suggested that I should contact you on this. I have a Walker & Co. San Carlos, Texas token which through a great letterhead/letter copy (which I think you provided?), it was proven that this particular San Carlos was in Presidio County. Previously this token was thought to be from another San Carlos in Hidalgo county (extreme south Texas). My problem with the Hidalgo San Carlos had been that it was not that old, and also an internet 1895 Atlas Map opens to reveal a San Carlos in Presidio county.
A new book on mining tokens is being written, and I am trying to learn the name of this San Carlos mine. Also was it a copper or silver mine such as at nearby Shafter?
Your information will be greatly appreciated.
James Kattner
James,
The token you have is indeed authentic and was issued by Walker and Company aka Humpries and Company whose main store was located in Marfa, Texas. Humpries and Company had a branch store located at the San Carlos Coal Company mining camp located in northwest Presidio County Texas during the 1890's. The camp was only in operation for a few years, and appairently never had an official U.S. Post Office although the San Carlos Humpries and Company store distributed mail for the employees of the San Carlos Construction Company who built the Rio Grande Northern Railway from Chispa to the camp the and employees of the coal mine. These types of tokens and script were fairly common at mines during those years. Some workers were paid with these tokens and could redeem them for needed items from the camp stores. See below my article on the San Carlos Coal Company and the Rio Grande Northern Railroad.
GJ
[ add comment ]
|
permalink
---
The Accolade recognizes film, television and videography professionals
who have demonstrated exceptional achievement in craft and creativity, and those who produce standout entertainment or contribute to profound social change. Entries are judged by highly qualified professionals in the film and television industry.
Information about The Accolade can be found at
www.theaccolade.net.
In winning an Accolade, Meals joins the ranks of other high-profile winners of this internationally respected award. Thomas Baker, Ph.D., who chairs The Accolade, had this to say about the latest winners, "The Accolade is not an easy award to win. Entries are received from around the world. The Accolade helps set the standard for craft and creativity. The judges were pleased with the exceptional high quality of entries. The goal of The Accolade is to help winners achieve the recognition they deserve."
This is a truly wonderful must see film. See below post for more info. Congratulations Donnie!
Gj
[ add comment ]
|
permalink
---
On Friday, November 21, 2008, 09:41 AM, Monty Waters wrote:
Gary Owen asked for more information on Nathan Fuller. I can supply some.
He notes some confusion about Fuller's re-enlistment in May 1918. This occurred at the height of the Porvenir investigation and decision to dismiss those involved. "General Order No. 5", dated June 4, 1916 had several purposes: first to discharge the five rangers, still on the payroll that participated in the Porvenir operation; second, to transfer the remaining Co. B rangers to Captain Gray's Company D; third, to reassign Fox to Austin; and finally, to terminate Co. B as a unit. Fuller was one of the rangers reassigned to Co. D. This letter was sent at the time Fuller's application was pending to re-enlist in Co. B, which is why his warrant still reads "Co. B", though by the time his warrant was endorsed by the Adjutant General, Co. B ceased to exist. Fox's reassignment to Austin never occurred because he resigned with a very public letter to the Governor. The well-known photograph of the mounted ranger company is often labeled Company A, but on the date the photograph was taken, Gray was captain of Company D.
Fox was a controversial captain, but he did hold Fuller in high regard. In an October 15, 1917 letter listing men under his command, Fox praised Fuller, Beard, Trollinger, Woelber, and Holden as the only rangers of his group that had over one year service with him and whom he considered "alright in every respect . . . sober and honest". He listed a total of 13 other rangers in this letter, quite and expansion from the Sept. 1917 payroll seen by Owens. All the other rangers were new enlistments (Boone Oliphant resigned in Sept. 1917; he re-enlisted in December), though some of them had law enforcement experience.
Fuller resigned Feb. 11, 1920 sending a letter to the Adjutant General highly critical of Captain Gray. He complained that Gray put him (Fuller) under the supervision of a less experienced ranger, P.F. Dyches. Not only was Dyches inexperienced, but he an another ranger had recently suffered the embarrassment of losing a handcuffed prisoner to armed Mexicans near Lajitas. Fuller wrote: "I told Gray I wouldn't work under Dyches. I will not work under no man who let a few mexicans come to this side and shoot him loose from a prisoner, in broad open daylight, and the prisoner hand cuffed."
But Gray had other complaints about Gray: He'd "done more lectionring [sic] the last two months than the man he wants to be elected. It is well known he has brought all the pressure possible to force the rangers to vote for Jeff Vaugn [sic] for sheriff. In fact he publicly stated that all rangers who did not so vote would soon be hunting a job." Finally Gray was hypocritical on the subject of alcohol: He was "always harping on the booze question, when he buys as much or more than any man he has under him, this is not hear say [sic] I know what I am telling."
The last two items in the indictment require some explanation. Presidio county had for ten years been a county that was partly wet (legal alcohol sales) and partly dry (alcohol prohibited). For instance, in 1918 the legislature made it illegal to sell liquor within ten miles of a military base, thereby making Marfa "dry." Needless to say some people found ways to slake the thirst of the men stationed near Marfa, despite the law. On October 18, 1919 the entire state became "dry" a year prior to the rest of the United States. Thus bootlegging, which had always existed, became even more lucrative. Gray believed the Presidio County Sheriff, Ira Cline, was protecting the activities of his bootlegging brother, Buford.
He was also using ranger [Jefferson Eagle] Vaughan to investigate the involvement of the Clines and other ex-rangers in a sensational robbery of a Mexican payroll officer near Marfa on July 30, 1919. Though several law enforcement officers were implicated in this crime in internal federal and state documents, no indictments or convictions were ever brought against the perpetrators. It is possible that Gray had very good reason to wish Cline out of office. Or it is possible that, for political reasons, he wished to have him connected with any criminal activity occuring in the county.
In any event, Fuller resented the pressure to support Vaughan and Gray's hypocrisy on the issue of alcohol. Vaughan did win election over Cline in 1920 by a very close (33 vote) margin. Cline blamed the votes of the recently enfranchised women voters for his defeat. This may've been a factor, for Vaughan was a tall "matinee idol" type of ranger and one of the models Zane Grey used for his novel "The Lone Ranger". He served as sheriff until 1927, and eventually became a ranger captain in the 1930s.
Nathan Fuller never served as a regular ranger again but he did obtain a "special ranger" warrant, which was basically a permit for him to carry a gun, when he went to work in 1922 as a railroad detective for the I&GN railroad. He held this warrant from August 22, 1922 to January 5, 1923. This warrant was endorsed by Captain Jerry Gray who either did not know of Gray's 1920 letter to the Adjutant General; forgave him for it; or had no choice but to endorse a warrant that in many cases was awarded through the governor's office.
I came across most of this information in my research on my grandfather AG Beard, who served with Fuller in Co. B. Sources:
"Texas Adjutant General Service Records 1936-1935" (online)
Harris and Saddler, "The Texas Rangers: The Bloodiest Decade, 1910-1920" (Univ New Mexico, 2004"
Alvarado, "Ira Cline-Disciple of Law" (1972, on the Marfa Public Library web site)
Thompson, "History of Marfa and Presidio County" Vol II, (1985)
Texas Legislature, "Proceedings of the Joint Committee of the Senate and the House in the Investigation of the Texas State Ranger Force" (typescript, 1919, microfilm copy at the University of Texas, Center for American Studies)
Stopka, Christina; Partial List of Texas Ranger Company and Unit Commanders; (2005, Texas Ranger Hall of Fame and Museum)
www.texasranger.org/ReCenter/Captains.pdf.
[ add comment ]
|
permalink
---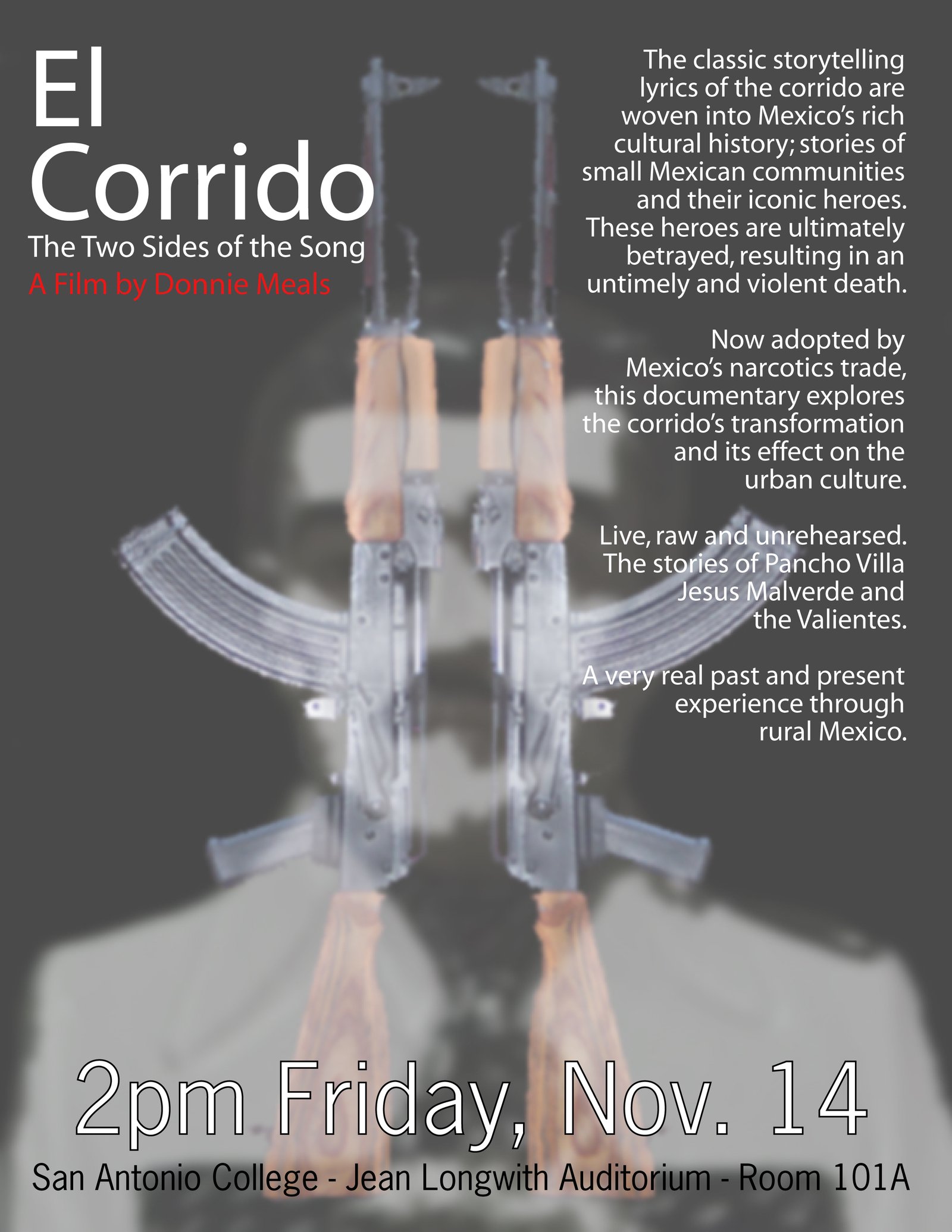 Donnie Meals new documentary film "EL CORRIDO, THE TWO SIDES OF THE SONG" is simply outstanding and a definite must see for anyone interested in Mexican history or Mexico today. I have long been fascinated with corridos, those powerful Mexican ballads that so simply but effectively communicate the stories of Mexico's rural downtrodden and their iconic heros. Corridos originated with the Mexican War of Independence as romantic ballads but flourished during the Mexican Revolution of 1910 as a means of communicating news of events and people in rural Mexico before the arrival of 20th century mass media. Perhaps the best-known corrido is La cucaracha, the Mexican equivalent of Yankee Doodle. One version pokes fun at President Victoriano Huerta, the cockroach who can't function because he has no marijuana to smoke.
The film covers a lot of ground beginning with a fine look at Mexican history and culture. Meals then moves on into the Pancho Villa Corridos before focusing on today's narco corridos leaving his audience with a much greater understanding of Mexico. Parts of the film were made in Ojinaga and Candelaria and Meals' cinematography is superb.
El Corrido premiers in San Antonio, Texas at San Antonio College at 2 p.m. on Friday, November 14th. Below is a schedule of upcoming showings at film festivals. A DVD version is to be released soon.
Gj
Tuscon (October 17 2008 to October 19 2008)
New York (October 31 2008 to November 01 2008)
La Joya (December 19 2008 )
San Francisco (February 05 2009 to February 17 2009)
Ann Arbor (March 24 2009 to March 29 2009)
Nashville (April 16 2009 to April 23 2009)
Mexico City (April 18 2009 to April 19 2009)
[ add comment ]
|
permalink
---
Robert Utley (Lone Star Lawmen)does a good job of explaining how the disciplining of company B was entangled in Texas politics. By May it was impossible to conceal what happened in Porvenir, but Governor Hobby was in a primary election battle with his impeached predecessor, James Ferguson. The governor did not want to alienate the ranchers of west Texas (who strongly supported the rangers) nor the Mexican Americans who resented the racism evident in the ranger's actions. He waffled by firing the ranger participants (backdating the firings to February though in fact it was done in June), accepting Captain Fox's resignation and disbanding company B. Those members of the company (like Beard and Fuller) who were not at Porvenir were in limbo until after the primary in July. If Owen's and Fuller's memories are good, it appears the rangers were questioned intensely about their knowledge of events that night. Eventually their re-enlistment was endorsed by the adjutant general and they resumed their ranger careers. Incidently Walter Prescott Webb, in his book on the rangers states twice that all members of the Porvenir company were dismissed, but the service of Fuller and Beard refute this.
By exonerating my grandfather from involvement with Porvenir, I don't mean to whitewash his career. After leaving the rangers in March 1919 he became the first town marshal of Marfa Texas. While there he was implicated with other former rangers in an armed robbery of a Mexican payroll officer (see Sadler and Harris page 478-480, who get some of the facts about him wrong including his first name), and also was part of a group of American scouts and law enforcement officers who murdered four criminal suspects near Carrizo Springs Mexico during the U.S. Army's incursion into Mexico in August 1919. In that same month he was indicted by the Presidio County grand jury for "robbery with firearms and assault to murder"(this incictment was unrelated to the payroll robbery). He was never tried or convicted of any of these crimes, and I'm not sure of the facts behind the indictment. Family folklore implies that he used too much force in shutting down a popular local bordello.
Anyone with more information please let me know.
Glenn, I really enjoyed reading your book and continue to enjoy this blog.
Monty Waters
Austin Texas
[ 2 comments ]
|
permalink
---
ABOVE IS THE RIO GRANDE NORTHERN RAILWAY TUNNEL BLASTED THROUGH BRACKS CANYON IN 1895
In May 1892, the San Carlos Coal Company leased and purchased some 54,000 acres of land in northwest Presidio County, Texas with the intention of mining coal. Because of the remote location of the mine it became necessary to build a 26.25-mile railroad from the Chispa siding on the Southern Pacific Railroad to San Carlos. The Rio Grande Northern Railway Company incorporated in February 1893 with the line being completed three years later. A major part of the construction took place with the blasting though Brack's Canyon one of six railroad tunnels in Texas. During this time, the San Carlos Mining Company commenced mining operations but the coal produced proved to be of varying quality and insufficient quantity. The Rio Grande Northern Railroad was utilized only once to transport a few carloads of coal from the mine in 1896. Mining operations then ceased and the following year, Presidio County Sheriff Den Knight sold the abandoned railroad for unpaid taxes.
For over a hundred years now, the story of the San Carlos Mine and Rio Grande Northern Rail Way has been shrouded in mystery. While the venture was short-lived and ended in failure, it is an important part of Big Bend history that reflects the great optimism felt by the thousands of settlers who came to the region following the coming of the railroads. The 1880's proved to be a pivotal time of economic expansion in the Big Bend. In the early 1880's, John Spencer discovered rich silver ores in the Chinati Mountains near Milton Faver's ranch headquarters setting in motion a boom in mining boom lasted into the early twentieth century. Even more importantly during the early 1880's the Southern Pacific Railroad laid tracks eastward across the sparsely populated desert landscape of the region and the trains started running bringing passengers and freight to and from the outside world. Cattlemen could now ship their livestock to a hugely expanded market. The good grass and cheap land attracted countless ranchers and settlers in search of better times to the Big Bend. By 1885, more than 60,000 cattle grazed in Presidio County. Towns that would become the future trade centers of the region sprang up and prospered. Times were good and optimism ran high.
Little today remains of the Rio Grande Northern and the coal mine with the exception of the Bracks Canyon tunnel, the railroad bed, a trestle and two mineshafts. Following the sale of the railroad, the tracks and ties were torn out. The once bustling mining camp of San Carlos that served as a base of operations to some 300 miners and construction workers sits empty in the desert. Only piles of rubble mark the location of a few jacales where some of the miners lived. Little has been known about the railroad and mine because the surviving records and correspondence of the RGNR and the mine are few.
I first visited the tunnel and San Carlos in the late 1970's and have always been fascinated with the story. For nearly thirty years, I was only able to locate scattered documents that left so many gaps in the story. However, two years ago, I found the papers of Humpries and Company preserved in some thirty dusty boxes in the archives of the El Paso Public Library. Beginning about 1885, Humpries and Company became the largest mercantile in the Big Bend with stores located at Marfa, Shafter, Chispa and San Carlos. The records contain the correspondence of John Humpries who was present when the railroad and mine were being built. It is through his correspondence and the Humpries store records that I have been able to finally tell the whole story.
Born in England, John Humpries was a fascinating Big Bend character that came to Marfa in the town's first years. The former sheriff of Duval County, John Humpries was not a man to be underestimated. In 1883, he wrote "I would advise all my friends doing business on the frontier to provide themselves with a No. 10 double barrel shot gun, and keep it loaded with buck shot, where they can get hold of it quickly as I have found it is a good thing to have. I am afraid from the looks of things, we have no chance of protection either from the American or Mexican authorities, and a man must be prepared to defend his property himself or leave the country."
I will present my paper titled "The San Carlos Mine And The Rio Grande Northern Railway" at the Center For Big Bend Studies Annual Conference at Sul Ross University in Alpine on Saturday November 8th. Below is a tentative schedule for the conference.
Gj
2008 Center for Big Bend Studies Conference
November 7 and 8
Sul Ross University Center 2nd Floor, Espino Conference Center
Tentative Presenter Schedule
Session 1: TAP Rock Art
2-3:30 Friday
Chair:
Jamie Hampson
Reeda Peel
Roger Boren
Session 2: Warriors of Color
3:45-5:15 Friday
Chair: Mark Saka
Mary Williams
Harold Sayre
Thomas Phillips
Session 3: Current Cultural Issues in the Big Bend
3:45-5:15 Friday
Chair:
Michael Yoder
Emily Levitt
Geoff Kelley
Session 4: Beyond the Alamo
9:00-10:30 Saturday
Chair: Lynn Whitfield
Robert Reitz
Troy Ainsworth
Holle Humphries
Session 5: Community Rock Art Session
9:00-10:30 Saturday
Chair:
Tim Roberts
William Yeates
Andrew Tegarden
Session 6: Biographies
10:45-12:15 Saturday
Chair:
Judith Parsons
Oliver Osborn
Shirley Caldwell
Session 7: Current TAP Investigations
10:45-12:15 Saturday
Chair: John Seebach
Samuel Cason
Richard Walter
David Keller
Session 8: Mining in the Big Bend
1:30-3:00 Saturday
Chair:
Jaclyn Jeffrey
Claude Hudspeth
Glenn Justice
Session 9: At-large History
1:30-3:00 Saturday
Chair:
Paul Wright
Nancy Hickerson
[ 3 comments ]
|
permalink
---
http://www.ftd.de/karriere_management/b ... 28931.html
Gj
[ add comment ]
|
permalink
---
Yes, I read the news article I have again and it stated that Herbert Cody Blake actually enlisted one of the uncles of the Gardner boys into the search. Blake even followed the treasure map. It would be nice to find those gold bars though!
If I get enough information I just might make a movie called "The Gardner Boys", kind of like "The Newton Boys".
Leon Metz suggested that I search the El Paso newspapers. The Gardner boys were probably outlaws who formed a gang during the late 1870s and then split into the Guadalupe Mountains. The newspaper suggested that their were copies of these newspapers which mentioned the notorious Gardners, but I would love to know where these newspapers are now.
I have heard of a gunfighter named Zeb Gardner, but again a mystery. I've also found fast guns such as Tom Gardner, a notable rancher during the Johnson County War in Wyoming, and a supposed noted fast gun named Billy Gardner, a prominent New Mexican who was killed in a "Duel to the Death" in 1902 as newspapers reported.
Their was also a notable Texas gunman named "Lige" Gardner, who worked as a timekeeper for the Southern Pacific railroad in 1901 and suffered from Bright's disease. He would often boast, "If I've got to cash - in I might as well take along some of my enemies". He was known to have killed two white men and several blacks. However, he was in Eastern Texas near Beaumont.
I am also researching my ancestor who I have wondered might have been the leader of the gang, but most gunmen were loners instead of desperadoes, plus he was never in that area.
However he lived in south Texas around Brownsville near the King Ranch, and hardly any information there either.
My ancestor, Lewis Gardner, was a sixty something year old gunfighter in south Texas. He was born about 1810 at SC, lived in GA where he married and fathered about thirteen children, farmed, owned slaves, removed to MS where he owned a farm, his wife divorced him during the Civil War, he gave her the farm and then he went to Texas. He lived in Houston County for a time where he remarried to a widow, and he made his living as a horse trader. Gardner was a notorious gunfighter and I need to find newspapers from the 1870s in south Texas. His death is a mystery. He was supposedly ambushed and killed in a gunfight with horse thieves at a place pronounced "Natchez" in Texas while transporting horses to Louisiana, but it is also stated that he spent his last years in Johnson County, Texas. He was supposed to have been described from a postcard photograph as a tall, big boned man, with a long flowing white beard, and striking sky eyes.
I did find a professional gambler named Gardner during the early 1870s in Refugio, Texas.
A lot of horse traders migrated to south Texas and Mexico to buy cheap horses, and transported the horses to Mississippi and Louisiana.
Thank you for the information and it will probably be awhile before I find anything, and I need money to travel, and since microfilm is difficult, then I will probably have to hire a researcher!
If you know anybody who has searched through newspapers from the late 1870s, for example Billy the Kid, and has read about these outlaws, just let me know.
The Gardner boys were perhaps the most ruthless desperadoes in the West if the gang actually stole over a million dollars.
Best,
Corey Gardner
Is there anyone out there that knows anything about the Gardners? If so, please join us in the discussion and see if we can help Corey find some of this. Post a comment or email me.
Gj
[ add comment ]
|
permalink
---
I hope and believe that the Gardner boys are real, and just the fact that Blake mentioned, or the newspaper mentioned those old newspapers, it convinces me.
I am not hunting treasure, don't have the time, patience, and money to do so. Herbert Cody Blake didn't sound like he would believe anything written by this guy named Dobie.
Herbert Cody Blake debunked just about everyone, such as Wild Bill and Buffalo Bill, and he would have ripped Dobie a new one.
Could you somehow get somebody who has come across old newspapers from the 1870s and 1880s in the west Texas area that mentions the Gardner boys?
It annoys me that people have researched every outlaw gang or outlaw character without the name Gardner. It's like the name is cursed or something. Their was a famous outlaw named Roy Gardner with a way more amazing and real tale than any other outlaw. Another was a noted Missouri horse thief named George Gardner, alias "Skoddallo" mentioned in newspapers in 1889, but can't find anything on him. Their was a very infamous outlaw named Big Phil Gardner who was the leader of a gang in the Colorado Territory, but he was gunned down in 1870 at Montana.
Their was a Gardner family in west Texas that could have been the Gardner boys. Their names were Alex, John, Peter, Tom, Charlie, and Willis Gardner. They were cattle raisers, a rough crew. These men were cowboys and Indian fighters, but only one seemed to have a bad man reputation.
These Gardner brothers were only together from 1877 to 1880 in west Texas.
Alex Gardner was a cowboy, Confederate soldier, Indian fighter, and rancher in west Texas and later moved to Arizona to raise horses.
John Gardner was a notable trail boss mentioned in "John Gardner's Trail Herd", a Texas folk song which described him as the "biggest cow - thief" and "you meet him on the square". He was a Texas Ranger, cowboy, Indian fighter, and an alleged member of the Sam Bass Gang, but by 1877 he was a family man. He was definitely a friend of Sam Bass, because Bass talked about his friend John Gardner on his deathbed. However, no evidence states he was a wanted man. Gardner wrote a short bio on himself in which he stated that he was involved in many fights with Mexicans and Indians, but would not give details as it would sound "fishy" these days. He lived his life as a rancher in Frio County and his son, Joe Gardner, was a very noted roping champion.
"Peter" Gardner was a distinguished Indian fighter, trail driver, and rancher in Frio County, Texas.
Tom Gardner was a cattle raiser and lived in Tom Green County, but married and moved back to Frio County, Texas.
Charlie Gardner was a cattle raiser and moved to New Mexico where he married in 1889, which I found interesting.
Willis Gardner died at age eighteen in 1882, strangely.
Their was also a famous army scout and Indian fighter named Raymond "Arizona Bill" Gardner, known for his tall tales. He was indeed an army scout and served with Custer, Miles, and Crook, and he claimed he had been raised by Indians, knew every Old West character, did every frontier trade, was a Wild West performer, lawman, Arizona Ranger, and many other claims. He looked kind of goofy when he was in his nineties, smiling and riding a burro, but I had seen a few pictures of him when he was about seventy and he looked like he could handle himself in a fight.
He was a very shady character aside from his military service. I read that he "reportedly" buried a treasure near Camp Grant, Arizona in 1877 from a robbery, and was sounds truthful is that it wasn't his claim. He might have had his own gang. His book, which is terrible, stated that he had a brother named Charlie Gardner who was a ranchman.
I don't know if they were known as the Gardner gang, or the Gardner boys, but some of those possible first names might help.
Best,
Corey
Corey,
I don't doubt the Gardner boys were real people and if you dig deep enough, you will find some information about them. But that means you must look at more than just newspapers to find what you are looking for. Problem #1, there weren't any newspapers in west Texas in 1877 to 1880. There were newspapers in Austin and Houston beginning in the 1850's. There weren't many Anglos or towns in west Texas before 1880. Newspapers did not exist before the coming of the railroads in the early 1880's. The Marfa New Era did not go into business until 1888 and sadly most of the New Era newspapers were destroyed sometime in the 1920's. or '30's. The Alpine Alvalanche started about the same time. The Archives of the Big Bend at Sul Ross University have the Avalanche on microfilm but there is no index. The Avalanche in those days was a poor newspaper, little news, just lots of gossip about who was coming and going. Fort Davis had a newspaper, I think called the Rocket but I have never seen any copies of it. The El Paso Herald, later called the El Paso Times published from the 1880's. The El Paso Public Library has all of the Herald and Times on microfilm and has an excellent card index. I think that might be a good place for you to look. UTPB Library in Odessa has El Paso Times on microfilm but no index.
Another source you will need to examine is True West Magazine. The Haley Library in Midland has a good collection of True West Magazine and an index. The Haley Library has probably the best collection of ranching, outlaw stuff and might well be able to help. I found a few articles about the Gardners treasure by searching for Blake at newspaperarchive.com. But only reprints of the article you have only found. Also, the Barker Texas History Center at U.T. Austin has the largest collection of microfilm newspapers in existence. They also have a great collection of vertical files on many Texas subject. Maybe something is there.
I think the first think you should do is prepare a list of names of who you are looking for and where you think they lived. Search U.S. Census records to try to establish if these people are shown in the Census. Probably an outlaw would not have wanted to give any personal information to a census taker. Another place to look is Civil War records such as the Records of the War of Rebellion. The National Archives has an on search site. I think Records of the War of Rebellion are also now on line. You might find some things if any of these people fought in the Civil War but must know their full name and where they lived. Same for U.S. Census on line at ancestry.com. See my links. Also look at the county histories for the counties you know the Garners lived. Example, try finding Tom Gardner in Tom Green County books and records. No reference to Gardners in Presidio, Brewster or Presidio County histories. Go to the local libraries and check their vertical files and county histories. San Angelo State University in San Angelo has a wonderful West Texas collection and has San Angelo Standard Times. Read every book you can find on the Sam Bass Gang and check the references.
Good luck on your project. It won't be easy but will be fun. However, you may find information on the Gardner Boys to be as elusive as their treasure. Don't be annoyed that other historians have not written about the Gardners. Maybe they couldn't find anything either. The historian is bound by the document, no document, no way to write a history.
Gj
[ add comment ]
|
permalink
---
According to the article, the Gardner boys had robbed a smuggler's pack train from Mexico, (I believe the smugglers were Mexican bank robbers) and the outlaws stole gold bars and jewels. A box of diamonds stolen during a famous Mexican bank robbery was with the loot. The Gardner gang was forced into the Guadalupe Mountains where the outlaws buried their loot in one of the many caves of New Mexico near Carlsbad. I believe the robbery took place in west Texas.
The news article also stated that anyone hunting for a job in West Allis, Wisconsin should go treasure hunting and will get free sample newspapers that mention the Gardners. It also stated that long time residents of the Southwest remembered the Gardner boys. An uncle of one of the Gardner boys was enlisted in the search and had a supposedly authentic treasure map.
I have met two people who have heard of the Gardner gang. I have contacted every great historian and none can help. Do you know of anyone who has old newspapers that mention these bad hombres?
Best,
Corey
Corey, so happens this historian has heard about the Gardner Boys, their so-called lost treasure and Herbert Cody Blake's pretty much forgotten search for it. Below is a clipping I located. It is likely a reprint of the same article you have. This one was published in The Chronicle-Telegram of Elyria, Ohio on Friday, October 12, 1928. I think I can unearth numerous other newspaper accounts of Blake's search for the treasure over many years. Some are as recent as the 1980's. But I offer this word of caution, if you are researching this to write a story of this myth, it's a fine old treasure tale and these things are fun to delve into. However if you are doing this in hopes of finding the treasure, I advise you to not waste your time. It's just an old, much repeated story that sounds like so many of those written by J. Frank Dobie.
J. Frank Dobie started much of this lost treasure stuff many years ago in his books and he sold a lot of books doing so. He was also an old newspaper man who learned how to sell his work with stories of lost treasure. Over the years, I have come across so many of these lost treasure myths in far west Texas that I, at the moment, cannot recall a lot of them. One that does come to mind, however, is the story of Maximilian I the Emperor of Mexico's lost gold treasure pack train that was supposed buried somewhere in west Texas said by some to be along the Pecos River following his execution by Benito Juarez in 1867. Somebody had a map of the location of the treasure.
Many folks searched for this lost gold, some spending their entire lives doing so. Even one published historian got sucked into the story: namely Clayton Williams Sr. The treasure never existed in the first place; Mexico was broke at the time and had no gold. Perhaps, the Gardner boys were real people. No doubt Herbert Cody Blake was a real person. Dig deep enough and you will find out. But don't think you can find a lost treasure that never existed in the first place from this old B.S. They all have common elements used by Dobie: treasure, usually gold, somehow lost due to some unfortunate event, a vanished map that exists somewhere and somebody who knows where the map is; the kind of stuff that even today sells newspapers, magazines. This is classic J. Frank Dobie, he must be laughing in his grave.
Gj
IN LONG HUNT FOR TREASURE IN THE SOUTHWEST
SOLDIER OF FORTUNE SEARCHES GUADALUPE MOUNTAINS FOR BANDIT GOLD
ALBUQURQUE, N.M.—Soldiers of fortune in the southwest continue the careers that entitle this section to its "legendary romance".
Herbert Cody Blake, 62, former member of Buffalo Bill's Wild West Show, a veteran of British and American military campaigns, is searching for a perhaps mythical treasure in the Guadalupe Mountains near Carlsbad, N.M.
After months of prospecting through the tree chains of Guadalupe peaks, Blake encountered bad weather and sought help in Albuquerque for food and money to carry on his hunt before winter comes.
The Gardner boys were forced to flee to the mountains with a rich booty of gold bars and jewels, from a smuggler's pack train from Mexico. All members of the gang died, Blake believes, before they could remove their treasure. A box of diamonds stolen during a famous bank robbery in Mexico also was supposed to be with the loot.
Blake traced the history of the Gardners through old newspapers and inhabitants who had long been in the southwest. He found, he said, unmistakable evidences of the gang's activities and of the cache in the mountains.
An uncle of one of the Gardner boys was enlisted in the search and furnished a supposedly authentic map of the county where the treasure would be found. Blake located the country shown on the map after several months of wandering through the mountains and started working his way into what he believes to the hiding place when he ran out of provisions and was forced to return here.
"There's more than a million dollars in there," he said. "I'm satisfied of that and I'm going back after it.'
In a few days, if he is fortunate in finding the grub stake, the soldier of fortune will continue to follow the trail of the storied treasure.
[ 3 comments ]
|
permalink
---
Suzanne.Campbell@angelo.edu
.
Somewhere out there are promising candidates who will one day will make valuable contributions to the so often overlooked field of west Texas history. This fine and much needed fellowship hopefully will help make this possible. Thanks to Andy Cloud, the new director of the Center For Big Bend Studies, for making Glenn's Texas History Blog readers aware of the fellowships.
Gj
[ add comment ]
|
permalink
---
www.cactusbookshop.com/.
Felton specializes in books on Texas and the Southwest. While small, Cactus Book Shop stocks a truly exceptional inventory of Texas books in downtown San Angelo, Texas. In addition, Felton has the largest selection of titles by his friend Elmer Kelton. If you are looking for a rare or obscure Texas book, give Felton a call at 325-659-3788 or email him at
cactusbooks@suddenlinkmail.com
. Chances are he will have the book or be able to locate a copy. The new Cactus Book Shop web page also has an online catalog some of Felton's inventory on the page. Welcome to the web Felton!
Gj
[ 1 comment ]
|
permalink
---
http://www.texasmonthly.com/2008-10-01/ ... ttexas.php
Also, be sure to view the Nat Stone video interviews with Abel Tellez and Johnnie Chambers at:
http://www.texasmonthly.com/2008-10-01/multimedia3.php
Thanks Katy and Nat for your fine efforts to make this issue known to the outside world!
Gj
[ 1 comment ]
|
permalink
---
Celia Ann (Smith) Hill owner and operator of the La Junta General Store in Ruidosa, Texas is no longer with us. She died September 10, 2008 following a short illness. Born May 25, 1928 to Harris Seymore and Winnie Donald Smith, Celia Ann grew up on her parents ranch located on the west side of Elephant Mountain in Brewster County. In the 1930's Celia's father and his partner Homer Wilson discovered quicksilver and began mining operations with their Buena Suerte (good luck) Mine in Presidio County. Their mine operated for more than thirty years producing more than 3,500 flasks of mercury and was a large and important producer during World War II. The Smiths kept a home in Alpine for many years so their children could go to school. Celia Ann graduated from Alpine High School before completing a B.A. and M.A. at Sul Ross. She had a long career as a teacher. Celia Ann retired from the Presidio school system about ten years ago. She was an avid horsewoman and loved to ride in the Big Bend In 1982 she was the only woman to complete a trail ride from Fort Davis to Alpine in celebration of the Alpine centennial celebration. She was an avid reader and at the time of her death was writing a manuscript about her experiences in the Big Bend.
Gj
[ 1 comment ]
|
permalink
---
Documentation concerning Mexican immigrants into the Big Bend for the 1880-1930 epoch is sparse. While Federico Villalba was a well-lettered man in both languages, the general Mexican-origin population was not. For the most part they were illiterate, in both Spanish and English language systems. The desert Big Bend is a huge place – larger than some states -- and isolation was a big factor in record keeping, or the lack of it. The long distances to county record centers and regional scarcity of even Justice (JP) courts had an impact as did fear of deportation, particularly during the World War One/Mexican Revolution period (1910-20). These and other factors kept the Hispanics away from authority, even U. S. Manuscript Census enumerators in many cases.
Scholarly history rests upon documentation. That is, official documents, letters, diaries, interviews with primary-source witnesses, business records, poll tax receipts and the like. When those do not exist, the historian must work with what he/she has at hand.
As a working historian (Master of Arts with a thesis) and author of works in historical fiction I repeat my support for Casas book. I (respectfully) believe that your criticisms, intended as constructive I'm sure, fail to consider the full range of problems in completing a work such as Federico Villalba's Texas.
As you pointed out the work is certainly not "scholarly history."
Also my friend, if I read you correctly, Villalba's Texas could qualify as "historical fiction." Well, okay. "Every cobbler to his last." I know not how Juan Casas might feel, but were I the author of Villalba's Texas, calling the book historical fiction would make me grin all over. The key word, naturally, being "historical."
As to the "scholarly" approach, such a history, iterated by Spanish-speaking people who immigrated to the Big Bend from northern Mexico, probably cannot now be compiled. We historians are to blame. In our ethnocentricity we waited too long, and the old ones who could have supplied documents and first-person imagery are almost all gone to their "last home."
It took a Juan Manuel Casas to set the matter aright. God bless him.
Glenn Willeford
Cd. de Chihuahua, Mexico
[ 2 comments ]
|
permalink
---
Mike Cox, author
New York: A Forge Book (2008)
$25.95
Getting to know author Mike Cox has proven to be a dynamic experience. Cox, a fifth-generation Texan and third-generation writer, grew up in the Lone Star State and, like most such twentieth-century males, he was weaned on Ranger lore. His lengthy resume, rounded off by the authorship of thirteen books and his election to the Texas Institute of Letters as well as a having been a staff writer for various newspapers such as the Austin-American Statesman, makes Cox seem an almost household guest.
In 1985 Mike became public information officer for the Texas Department of Public Safety (DPS), a post he would hold for fifteen years. He later went to work for the Texas Department of Transportation as communications manager, retiring in the fall of 2007. His years of contact with DPS officers turned into friendships with many of the men, and later the women, who wore replicas of the Mexican silver five-peso as an emblem, that being the five-pointed asterisk of a Texas Ranger. Across the years his work opened not only doors, yet filing cabinets across Austin and at the Texas Ranger Museum in Waco. Cox's years as an investigative reporter also proved their worth as various other archives unearthed their treasures before a trusted name, and an honest face.
In 1999 Cox was given "the go-ahead to write this book for Forge Books." The Texas Rangers: Wearing the Cinco Peso, 1821-1900, is the result.
Nonetheless, upon hearing of yet another Texas Ranger history in the works I thought, Egads! Isn't the market flooded already? But that was before I met Mike Cox at the West Texas Historical Association Conference in Canyon last spring. Being a firm believer in the concept that no governmental agency or entity can be bright and shiny all over, a manner in which the Texas Rangers and their parental bureaucracy, the DPS, have often been portrayed -- I have played devil's advocate in my writings. For that role I make no apology. There is no democracy without a viable opposition.
At any rate, the affable Cox, over dinner at an Amarillo steak house, first mentioned his book and a review. His most convincing line was, "I know people will think [Cinco Peso] is a puff job because of my past connection with the DPS." Cox then went on to assure me that he was taking great pains to avoid any validation of that untoward presumption. At that point I agreed to both the read and to the review, and am glad of it.
Cox, in the Preface to Cinco Peso says: "[T]he reality and mythology of the Rangers in our popular culture are as closely interwoven as a fine horse-hair quirt. It is hard to separate the two strands, though I have tried with as much objectivity as possible to document both. . . . [T]here is no question that men riding in the name of frontier protection or law and order killed some people who probably did not 'need killin'[.]"
Granted, that is a praiseworthy admission. Cox, however, then adds one of the few questionable remarks found in the essay: "[T]hose instances [of murder] were rare and often exaggerated." Now wait a sec, Mike. The bodies of hundreds of Mexican-American and/or Mexican-origin individuals killed by Rangers in the Lower Rio Grande Valley of Texas during the nineteen-teens, evidence supported by a Texas Legislature-sponsored investigation and often by photographs, do not lie. Furthermore, the long-festering story of the "Porvenir Massacre" along the Rio Grande in Presidio County, only recently proven true beyond a reasonable doubt by historian Glenn Justice and an aged eyewitness, did take place shortly after frigid midnight on January 24, 1918. Fifteen defenseless men and boys were mercilessly shot down by a group of ranchmen and a US Army soldier led by five Texas Rangers under the command of Ranger Captain J. M. Fox (who was stationed at Marfa, Texas). These two examples are indicative of other probable abuses of murderous power and, hopefully, cannot simply be written off as "rare and often exaggerated." Due to Porvenir and other outrages dating to the "Cortinas War" in the lower Rio Grande Valley during the 1850s, border Mexicans began referring to Rangers as los rinches, a rather less than complimentary by-name. Nevertheless. . . .
Wearing the Cinco Peso, 1821-1900, true to its title, begins with the birth of a Negro slaveholding culture; that is, the Anglo-American colonization of a province in northern Mexico called Tejas. Organized by Moses Austin and led by his son, the empresario Stephen F. Austin, success soon opened the floodgates to land-hungry Whites and their dreams. In almost no time other Southerners, and even Germans led by various empresarios, joined the game. Indians soon became a real problem for the settlers. Karankawa peoples of the Gulf Coast, reputed to be cannibals, proved especially intimidating. The occidental frontier, which ambit was then marked by San Antonio de Bexar and environs, also fell under attack by Plains tribesmen. "All" was not "Quiet on the Western Front." Therefore, it wasn't long before "Ten men [were enlisted] to act as rangers." While Tejanos did not invent "rangering" the appointment of such a body during the epoch while Texas remained part of Mexico began a lasting tradition.
Cox's Cinco Peso is a chronology of facts running threadlike through almost eighty years of Texas history. From the Anglo-American/Negro-slave settlement colonies through the Texas Revolution (1835-6) and subsequent Independence, followed a mere decade later by the "War of Intervention" between the United States and Mexico, Texas Rangers played a hand. Their primary role throughout most of the nineteenth century was the protection of the western frontier. Boiled down, that meant preventing Indian depredations.
The Karankawas, probably due more to pandemics of European-originated diseases than any concerted military action by "raingers," or anyone else for that matter, soon faded from the stage. Those natives who remained, and became predominate, had adopted a horse-centered culture by about 1660. They hailed from the Western High Plains region of the present-day Texas Panhandle, notably a higher, drier, cooler, and therefore more salubrious climate. "Hostile" is too kind a word for those bands of Kiowas, Wichitas, and other predominately Shoshone-speaking peoples who came to be known collectively as Comanches. These raiders were the causative factor for the later Republic-cum-State of Texas having raised a ranging militia for protection. Men and officers so appointed were soldiers, not peace officers. The efficiency of those early-day Comanche-fighting rangers has never been adequately detailed, although Cox takes aim at so doing.
No doubt, with the invention of the "Paterson" Colt .34 caliber revolver and its 1844 acceptance by Captain John C. "Jack" Hays as the ranger weapon of choice, the Comanches came to respect, even fear, contact with the Texas militia. Savages they were; stupid they were not. The frontier extended hundreds of miles north and south; los Comanches soon learned to avoid the far-flung rangers; they continued to raid, pillage, and plunder so far east as San Antonio (Texas) and Nuevo Leon (Mexico) while thrusting ever deeper into the Mexican Central Plateau.
The American Civil War (1861-5), fought mainly in the eastern states, bled the Texas frontier of manpower and resulted in renewed Comanches incursions. The frontier line was pushed back 100 miles in places with some counties losing one-half to two-thirds their population due to out-migration. Cox, keeping his word in Cinco Peso, bursts open several long-standing Texas Ranger myths. Concerning the Comanches the author concedes: "the Army [under Gen. Ranald Mackenzie] dealt with the last of the hostile Plains Indians in Texas." Rangers had provided merely a buffer to Comanche incursions east of the frontier line; contrary to legend, neither they nor any "cowboys" had anything to do with the Plains Indians removal from the state.
Another overblown Ranger story concerns the 1877 capture of Texas outlaw John Wesley Hardin in Florida, an effort supposedly accomplished by Ranger Lieutenant John B. Armstrong. Mike Cox, an ardent researcher, found that Hardin was actually arrested by "twenty-seven-year-old [Florida] Sheriff William H. Hutchinson" and "one of his deputies." Armstrong, who had failed and been humiliated in previous attempts at capturing the outlaw watched from an adjoining express car while his informer, an undercover Dallas deputy city marshal named Duncan, remained outside. As the Floridians wrestled Hardin, whose sidekick Jim Mann had just been shot and killed by a Florida deputy sheriff, Armstrong reportedly joined in the affray "hammer[ing] Hardin's head with the barrel of his Colt." It was undoubtedly Armstrong's wire to Austin that engendered this particular "one riot, one ranger" folktale: "Arrested John Wesley Hardin, Pensacola, Florida this P.M." the telegraphed message related. "[S]ome lively shooting. One of their number killed. . . . Hardin fought desperately. Closed in and took him by main strength."
Our precise author summarizes: "In the strictest legal sense, the rangers and other officers had kidnapped Hardin. A Florida grand jury later indicted the sheriff [Hutchinson] for that offense, but the case never went anywhere." Hardin, the prototype for many a pulp novel's "gunslinger" role, was tried for murder in Texas. He went to Huntsville prison to serve a fourteen-year sentence, did so, and was released after which time the gunman removed to El Paso. He was later shot and killed by "old" John Selman, an elected constable.
Cox, having proven himself not just another Texas Ranger apologist, refuses to dwell at length on these vagaries of Ranger lore. That is as it should be. The fact that he, despite his connection to the DPS, mentions these questionable tales at all mark the author as a reputable, and far more than just regional historian.
With the final removal of the Comanches and, by the mid-1880s, the Apaches from Texas soil Ranger work slowed down. Counties had been formed and, in the best tradition of Anglo-Saxon-American democratic ideals, elected local law enforcement began filling the needs of constituents. Ever budget-wary, the Texas Legislature had reservations about extending funding for a militia no longer needful. All that changed in the Lower Rio Grande Valley when, in a trial by fire that had been presaged by the Cortinas War, all hell broke out near Brownsville. The resultant death and destruction took place in the early twentieth century and, as assistant editors love to chide, are "outside the subject area" of Cox's volume one. Be that as it may, the author will hold forth in volume two, I'm sure. Regardless, the factors leading up to the tragic events had begun to take place in the last decade of the nineteenth century when a railroad from up the coast laid tracks to Brownsville and the Anglo invasion of an isolated pastoral Spanish culture, situated within a more dominant milieu, started taking place. The process of acculturation had begun in the "Magic Valley," and the first stage of the process, that time when two cultures clash, would provide a new impetus for maintaining a state paramilitary force. Culture shock hit the Hispanic community situated at the mouth of the Rio Grande like a brick to the face. A decade later violence coincidental to the Mexican Revolution ensued. And the results would insure that state Rangers kept their jobs.
The Texas Rangers: Wearing the Cinco Peso, 1821-1900 has been as pleasurable a read within the genre as ever I've experienced. Almost regrettably, the 375-page narrative concluded in only three long sittings. Like many historians, I begin reading a book near the end, which is to say I first took a look at the bibliography. Must say, Cox's end leaves are first class, taking up twenty-five pages. Those include government documents (38 entries); unpublished material (16); books (16 pages); articles (7 pages), as well as theses and dissertations. He includes an index and uses unobtrusive, chapter-by-chapter endnotes for references. The author says he is an "independent historian, not an academic." However, one wouldn't guess that by examining the 114-pages of end material.
Counterpoint: the narrative evades any hint of la academe. In like tradition of Texas authors T. R. Fehrenbach (Comanches: The Destruction of a People) and Thad Sitton (The Texas Sheriff: Lord of the County Line), Cox molds images with words and phrases, and with sentences and paragraphs and chapters that draw the reader "in" the way an early riser focuses the front-page banner of his daily. A master at quality prose, his transitions glide like fresh-churned butter slathered over sourdough while the oft-utilized similes execute fulfilling images, as of one's apron-strung mother, kitchen grinning, her long finger a-shake with "I-told-you-so."
A clear advantage for the independent historian is freedom. Cox's lack of concern for the chains that bind others, the academician particularly, come across as refreshing as a cold-beaded bottle of root beer in August. Cox is unafraid to call an Indian an "Indian," a gore-drenched Comanche a "hostile," or a Mexican a "Mexican" (which is, by the way, what they wish to be called). Huzzah and hurrah! Politically inspired censorship, with Cox, is out the window. It's about time.
An over-the-shoulder glance: Walter Prescott Webb, dean of Texas historians, published The Texas Rangers: A Century of Frontier Defense in 1935. According to Dr. Gerald G. Raun, Webb lamented having "written [the Ranger book] the way that he did and [indicated] that it desperately needed to be re-done." Raun, a graduate student at the University of Texas from 1956 to 1961, was present in Webb's home and heard the declaration. Raun adds: "And I think he was planning to do that when he was killed [in a 1963 automobile accident]." If Webb were able to reach out from the grave today and hand us a message I'll bet it would say, "Hail the responsible revisionist historian. May facts and logic rule the day."
It is past the day when a modern, "definitive" history of the Texas Rangers should have been made available. Two historians I'm aware of are attempting to do just that. Mike Cox is one. The Texas Rangers: Wearing the Cinco Peso comes in two volumes; as I have yet to see the second, I can only suggest that his offering may rank high on the list of candidates. Mr. Robert M. Utley's Ranger tome has yet to cross my desk. I hear good things. A fine historian is Utley. His offering may be the other nominee. Only time will tell.
Glenn Willeford
[ add comment ]
|
permalink
---
http://www.sulross.edu/cbbs/
at Sul Ross in Alpine. The center could not have found a more qualified and experienced new leader; Andy knows his Big Bend archaeology. He holds a B.A. in Archaeological Studies and an M.A. in Anthropology with focus in Archaeology from the University of Texas in Austin. A native Texan, Cloud has more than thirty years experience in Texas Archaeology serving, since 1995 as Senior Project Archaeologist, for CBBS. He has written extensively researching, writing and co-authoring more than forty archaeological reports as well as teaching anthropology at Sul Ross. In addition, he worked for the Office of the State Archaeologist at the Texas Historical Commission, Texas Parks and Wildlife, Big Bend National Park, and the Texas Archaeological Laboratory at the University of Texas at Austin. Andy is also the lead author for the La Junta exhibit on the website.
www.texasbeyondhistory.net.
Lots of good stuff on the site, check it out.
Also take a look at Andy's exceptional work at the La Junta sites in Presidio County:
http://www.texasbeyondhistory.net/junta/sites.html
For some of Andy's other articles see:
http://www.texasbeyondhistory.net/local ... p;exclude=
I have known Andy for many years and am so pleased, as are quite a few of us historians that he has been chosen to lead the CBBS. We look forward to the continued growth and success of CBBS in the future with Andy and know he will make it happen.
Congratulations Andy!
Gj
[ 1 comment ]
|
permalink
---
Glenn Willeford, M. A.
25/08/2008
Someone has to do something
Blanca Estela Moreno Arias
One single person could never imagine how normal summer vacations could change his perspective of life. That happened to me last summer, when I met, in a literal way, this great woman. She was a woman just like me, or also any of my classmates or friends. The only difference was that real love she always felt for her native country.
The story of this woman captivated me since the first moment I heard it. Since the first moment I knew that was a special story, a story that taught us something very valuable that must of us have forgotten, and that valuable thing is the love we must have to their country. This noble woman is the perfect example we must have. But it is time to finish with the pending ... let´s introduce her.
María Elisa Martiniana Griensen Zambrano was the hero who Parral never will forget. Elisa Griensen was the model of person who the country was looking for, and she´s also the model of person who I´m very proud of. The important fact Elisa Griensen did would make that not only Parral, but also Mexico was cover with pride of her.
But actually...who is Elisa Griensen and what was her heroic act? That´s a very common question that most of you have in your mind in this precise moment. That is because unfairly, only a few people outside Parral have heard about Elisa Griensen and her historic fact. Therefore, I invite you to know the story of this woman who really loved her motherland.
Elisa Griensen was born in Parral from a noble, but big family, that´s where our story begins. Don Juan Griensen and Doña María Lucía Zambrano were the parents of nine children: Elisa was one of that 9; actually, she was almost the youngest. That was happy times for the Griensen family; unfortunately, the happiness is not for always.
The hardest times for the Griensen family began earlier than ever. When Elisa was four years old both of her parents die, and then is responsability of Virginia, the elder of all the nine children, take care of her little brothers and sisters since that moment. It was a hard work for Virginia.
In that precise moment one man appears to help and to stay with the Griensen family forever. In the year of 1894, Virginia got married with Pedro Alvarado Torres, a man who, with hard work, is trying to obtain the rich silver lodes of his famous mine "La Palmilla". The love he had for his woman Virginia, made that he took care of all the Griensen family side by side with his dear wife.
An amazing fact takes by surprise to all the family in 1900. "La Palmilla" started to give incredible economic outputs that would the end of the austerity and sacrifice life of the Griensen family forever, and also would give to Parral a worldwide fame.
Don Pedro Alvarado was now the owner of the biggest fortune ever. His fortune was so big, that he built the famous Palacio Alvarado, and sometimes his friend Francisco Villa asked him for some money to buy weapons for his army. The fortune of Don Pedro was so big, that also he wrote a letter to the president Porfirio Díaz where he wrote that he wanted to help to his country paying the external debt of Mexico.
Despite the fact that Don Pedro was the richest man ever, he always was an extremely noble person. He fought with energy to the end to be the sucessful man now he was. In spite that his business made of him an always-busy man, he never stopped helping people who needed him. He never forgot what kind of man he was; Parral was pride of him.
In the year of 1905, Pedro´s happiness began to fall down. On May fifth, his dear wife Virginia dies, and this fact finished with him in an unknown way. Another May fifth, four years later, Don Pedro had to sold "La Palmilla" to pay a lot of debts he had. His economic power came to an end. Elisa, who was then 21 years old, had lived happiness and sadness with Don Pedro, like one of the members of his family.
The pass of seven years was still necessary in Parral to know the heroic act of Elisa Griensen. Now that we know how were the circumstances of the life of Elisa Griensen and the childhood she lived, it is also extremely important to you to know the most important antecedent for Elisa´s historical fact. What´s this important antecedent? Francisco Villa´s Columbus attack.
What were the reasons of Villa to attack Columbus? There are many theories. This is one of them: Villa was defeated in Celaya by Carranza forces represented by Obregón, so Villa decided to go to the North and attack Agua Prieta, Sonora, that had the defense of Plutarco Elías Calles. Villa attacked Agua Prieta; however, Carranza´s forces passed the frontier and defended Agua Prieta by the North American side.
Villa took this attack like treason, so he decided to look for revenge. Villa was extremely upset because the president of the USA, Woodrow Wilson, had admitted the Carranza´s government, and he decided to attack the nearest town to show his desire of revenge: that was Columbus.
But also exist another interesting theory about why Villa attacked Columbus. He had made a business with the Ravel Brothers; they gave to them 265, 000. 00 dollars to buy weapons. The Ravel Brothers accepted the money, but they never sent the weapons. Of course, Villa never would accept that, so he decided to attack Columbus to punish to the Ravel Brothers. This is the most accepted theory about why Villa attacked Columbus.
Villa didn´t find to the Ravel Brothers, but the attack continued. Villa asked to the people where the Ravel Brothers could stay, but the people didn´t want to talk, so he decided to set fire to the Ravel´s house and hotels, but the fire got bigger and affected all the town. A lot of people die that day, and the injured were uncountable. Villa and all his people left the town at dawn.
North American people never would forget Villa´s attack. North American soldiers started to cross the frontier looking for Francisco Villa to punish him for the attack to Columbus. They didn´t worried about to ask for permission to cross the frontier, they only wanted to punish Villa.
The soldiers began to make camps inside the Mexican territory to find Villa as soon as possible and wherever he was. They started to advance inside all the North territory, and after that they started to advance to the South. Finally, they arrived to Hidalgo del Parral on April 12th, 1916. The most important mistake the soldiers made is that they didn´t follow the only order they had: not to cross inside the town.
The soldiers installed their camps in the Plaza Porfirio Díaz, in front of the Escuela 99, without suspect the things would happen later. People were very upset because the soldiers were there. Everybody talked, and also gave his or her opinion; however, nobody did anything about it. Nobody could know that this entire situation would change very soon.
A young woman who was 28 years old would change the complete situation. Elisa Griensen Zambrano was among that entire people watching that horrible landscape where all the persons were talking without do one single thing. Then she went, looking for some help, to talk with the municipal president. He heard all the things that young woman said, but he didn´t do one single thing either. In that precise moment, Elisa knew it was time to act by her own.
Elisa never would stay with the arms folded. She returned to the Plaza Porfirio Díaz and organized the people who were there in that right moment. Then she went to the Escuela 99; she entered to the principal´s office and took the national flag. After she went to the fifth grade classroom and invited to 24 students to help her to take off that foreign force that was invading their country. Elisa returned one more time to Plaza Porfirio Díaz, now with the brave fifth grade students follow her and the national flag on her hands. She told to the people: "I asked for help but no one heard me, however... someone has to do something".
Elisa invited to the people to help her and they did it. It was a great sucess. Elisa invited to the people to sing the Mexican National Anthem and to expulse the enemy. People and also children began to throw stones to the North American soldiers, and some of them made some shoots to the air. Only a few injured and two die American soldiers were the result of this confrontation, but finally, the foreign forces had gone to the north. Elisa and the people from Parral had got the victory.
Since that special day, Elisa Griensen was considered not only in Parral but also in Mexico a national hero. People never would forget the historic fact Elisa Griensen was made on April 12th. It was a day to remember.
However, what were the reasons Elisa had to act like she acted that April 12th? Only a few people know that beautiful answer. A few months later of the historical fact, Elisa and Villa finally found face to face. Elisa boarded Villa´s car without permission. When the General saw her, he got angry and quickly told her: "nobody is brave enough to front General Villa, and less to board his car... who are you little girl?" She quickly said: "I´m Elisa Griensen" Villa spoke again: "you´re the woman who confronted the "gringos". Elisa answered: "Yes, my General, I´m that woman". Villa´s last question was: "why did you do that? are you Villista or Carrancista?". Elisa´s answer was always the same: "Neither Villista nor Carrancista, I did it for Mexico".
The beautiful example Elisa Griensen gave us never must be forgotten. We must have the same love she had for her country. This story about Elisa Griensen changed my life. I wrote this essay hoping that more people know her story and become an admirator of her and the things she did, because, like she used to say: somebody has to do something.
Name: Blanca Estela Moreno Arias
Grade: 2nd semester
Teacher: Glenn Willeford
Group: A
Date: 10/02/04
[ 2 comments ]
|
permalink
---
Chico Cano was my great grandfather and he was who the Rangers were looking for when they got to Porvenir,Texas. I visited the masscare site during a family reunion in Van Horn, and all the bodies of the victims were buried in one big pit. Their should be a Texas historical memorial marker at this site. Su Familia, Su Tierra, Su Hogar: Chico Cano fought for family, land, home
Publish Date: February 1, 2006 | Permanent Link
by Sam Richardson
You won't see many people wearing Chico Cano T-Shirts. The Mexican revolutionary figure is not as well known as Pancho Villa and Emiliano Zapata, two of his early 20th century contemporaries. Villa and Zapata have become not only icons but big business as well. Their likenesses are sold and seen on T-Shirts, post cards, calendars, and in many other applications. Even street gangs use them as emblems of power.
But Chico Cano, in his own way, lived up to the revolutionary image of fighter, hero _ even bandit _ as much or mores than other more celebrated figures. And because he occasionally redistributed the wealth of the more fortunate, Cano has also been described as a Mexican Robin Hood.
Chico Cano was not perfect but he was an honorable man, according to authors Tony Cano and Janet Sochat. In their book, Bandido. The True Story of Chico Cano, the Last Western Bandit (Canutillo: Reata Press, 1997), the writers portray him as a man who was driven by the motto: Su familia, su tierra, su hogar. He used the remote reaches of the Rio Grande border as his own Sherwood Forest and its argued that his rustling, gun battles, and banditry, regardless of how others perceived them, were done in the name of family, land, home.
Chico very obviously wore a black hat in his actions against the Americans and some Mexicans but was known to wear a white hat as well in the aid and protection he brought to many people in the areas he controlled,_ the authors write. And they make an important distinction between Cano and other leaders of the revolutionary period. Whereas many revolutionary groups indulged themselves in the spoils of war, Cano drew the line at abusing innocent people, especially women.
Chico admonished those, Anglo or Mexican, who would not respect and care for the Mexican people, but rather raped, pillaged, and intimidated them,_ according to his biographers. And in contrast to Pancho Villa, who had 25 wives, Cano was devoted to one woman all his life. His beloved Teresa.
During the Mexican Revolution, Chico Cano was as enigmatic as the political situation in Mexico. Even though he is portrayed by the authors as a man loyal to his wife and family, and a man who had his own loyal following of armed men, his political loyalties shifted frequently.
He was first allied with Orozco, then with Carranza, both of whom were rivals of Villa. Then he lined up with Villa, then with Carranza again. Eventually he became totally independent. To use an old cowboy expression, He changed horses in midstream a lot. And he wound up being hunted not only by all of his former associates in Mexico but by the U.S. government as well.
None, it should be noted, ever put him out of business.
Authors Cano and Sochat portray Chico Cano on the one hand as a survivor, on the other as a victim. Since his loyalties were negotiable, and since he was constantly changing sides, all his former associates were eager to blame him for whatever banditry and violence occurred anywhere he might have been. Some tried to blame him for the Brite Ranch raid where a ranch south of Marfa was attacked in 1917. Others tacked his name onto every stolen horse or cow that crossed the Rio Grande during those turbulent times.
With one exception, the authors never admit Cano ever killed anybody or was directly responsible for any killing. In a drunken accident, Cano killed a young boy while trying to shoot a bottle off his head. In other instances, including the killing of Ranger Joe Sitter in a famous border gun battle, all possible alibis are entertained by the authors as to why Chico Cano was more than likely innocent.
When he was elderly and on his deathbed, Cano was asked if he was afraid to meet his maker. He said, My Father was my maker. Poverty was my maker. Distrust was my maker. I have met them all my life.
Cano died in 1943 of natural causes, still a hero to his people.
For further consideration is the question how many of the problems between the U.S. and Mexico in the early 20th century were created by the United States? Some would argue that one of the leading causes of the Mexican Revolution was U.S. investment in Mexico which helped create the one-sided economy of the Dictator Porfirio Diaz. His thirty-year reign created abject poverty and great suffering for most of the country while his small ruling elite and foreign investors made millions.
It was into that world that Chico Cano was born. The events resulting from the Diaz dictatorship and the revolution it caused shaped his life and the lives of thousands of others along the U.S./Mexico border defined by the Rio Grande.
Bandido is a must read for students and aficionados of Big Bend history.
[ 1 comment ]
|
permalink
---
If anyone has any difficulty posting comments on the blog please email me. Also, the book is available and in stock at Front Street Books in Alpine and Marathon. Telephone 800-597-3360. Let the discussion begin!
Gj
Friday, August 22, 2008, 08:41 AM
The Casas book can only be classified as a novel, complete with descriptions of its characters' mannerisms, emotions, and dialog. Had a New York publisher taken it on, I'm certain they would have put "hisstorical fiction" on the spine and published it as a mass market paperback -- but they didn't take it on.
A few family letters are offered as "historical documentation." And the only thing that might be considered factual is the use of real people's names. The author confesses to fictionalizing the Jorge Villalba trial [p.301]. And [p.XI] he tells us he "recreated" events as they might have happened from his family's perspective. But, even the author has to admit he injects his own biased "perspective." For instance[p.219]: The author -- in his own voice -- describes the prosecution witnesses as "lying sonsofabitches" and hostile -- and this without the benefit of a trial transcript which he tells us no longer exists [p.301].
Another instance[p.151]: In a fictinal setting -- again, complete with mannerisms, emotions, and dialog [and even snifters of Cardinal Mendoza brandy (!) which defense attorney Mead fusses over so eloquently]-- Frederico Villalba asks Mead, "How hard could it be to prove self-defense?"
" 'If it was the other way around and your boys were Anglo and the deceased were Mexican...not too hard," Mead said with a shrug of the shoulders." [Rimply read the inference behind the words the author has put into the mouth of the character Mead. To be fair, the author might have contacted Mead's descendants and got their take on what he might or could have said and felt. They might even tell us Mead didn't like Cardinal Mendoza brandy.] But this was obviously not meant to be an objective story with two sides.
There are other examples...
For the sake of argument, let me play on the author's own previous comment, and call it "anecdotal fiction." If that is accepted, then some might consider it a "good read." But don't call it fact-based "history" because it is not.
Felton Cochran
Thursday, August 21, 2008, 11:34 AM
I know that Mr. Ruan is a student of the Big Bend. Although I have never met him, I have learned to respect him and his knowledge by way of his friend and colleague, Mr. Glenn Willeford. His pointing out that I used the term "Villa interloper" is a bit pickyuny. Villa and his men were, by then, notorious cattle rustlers along the border. His activities, though not yet politically motivated, were very well-known and highly unappreciated by my great-grandfather and others. If the reader will recall, my great-grandfather called Villa the "accidental hero". Per my great-grandfather's assessment, Villa was a criminal who, by fortuitous circumstances, transformed himself into a "man of the people". In deference to Mr. Ruan, perhaps I should have called the cattle rustlers just that. Now, had I used the term Villista, Mr. Ruan would certainly have had a bigger bone to chew on.
As for the comment that the "racial issue is overblown". I submit to the reader that the racial climate is unfortunately, well-portrayed by events that took place in that era, and not by my invention. I did not concoct Porvenir, the transgressions of the Texas Rangers and the Army, the trial of my great-uncle Jorge for murder when it was clearly self-defense, or the murder of my great-uncle Jacobo.
To Mr. Ruan, I feel privileged that you chose to read my work. Aside from your points of disagreement, I hope that you enjoyed meeting the Villalbas. And, by the way, my book is an anecdotal history, not a novel.
Juan Manuel Casas
Wednesday, August 20, 2008, 11:08 AM
In my opinion Casas' book reads well as a family history or as a novel. Unfortunately, I think that anyone who is familiar with the history of the Big Bend and the Mexican Revolution would have some problems with factual statements.
Case in point: on page 17..."In 1909, Federico was approached by tghe sheriff who encouraged him to accept a commission. [as a Texas Ranger]Federico did so for one big reason. He didn't much care for Pancho Villa. It offered the American government's protection if he or any of his vaqueros killed an interloping Villa sympathizer." In 1909 Villa was not even a minor player in Mexican politics and history. Probably nobody in the United States had even heard of him. What was the possibility that "an interloping Villa sympathizer" would appear in the Big Bend and need to be killed.
I would agree wholeheartedly with Glendenning that the racial predjudice issue is overblown.
There are a number of other obvious historical errors.
Well written, interesting novel.
Gerald Raun
Monday, August 18, 2008, 10:19 PM
GJ, I'm surprised! There was so much YAH! YAH! about Mr. Casas book before it hit the shelves, and now, it seems, nobody wants to argue with him. Could it be that Casas turned out a better product than the naysayers expected>
Glenn Willeford
[ 1 comment ]
|
permalink
---
In 1882, twenty-four year old Federico Villalba left his parents home to take up ranching initially at San Carlos, Chihuahua before moving north into the Texas Big Bend. Villalba's Rancho Barras located near Burro Mesa did well with his cattle herds growing to over 2,000 head in a few years. His Rancho Barras brand became well known. Villaba also owned property west of the Chisos Mountains where quicksilver was discovered in 1899. In addition to his ranching and quicksilver operation Federico engaged in the manufacture of saddles and leather goods and opened a small store that stocked necessary supplies. By the time Villalba reached thirty years of age and married, Federico had established three successful business operations. His family grew to include three sons and three daughters. Early in the 1900's, Villalba entered into a quicksilver mining partnership and opened a general merchandise store at Study Butte.
In 1907, a financial downturn signaled troubled times ahead for the Villalbas. Then after surviving the dangerous years of the Mexican Revolution in the Big Bend, tragedy struck the family. The Villalba boys loved to play cards and gamble and Jacabo took up bootleg liquor smuggling. Following a poker game that went bad, Jacabo shot and killed two men that resulted the murder trial of his brother Jorge. The case went to trial in the Brewster County Courthouse in February 1924 and ended with Jorge being found not guilty. But the verdict proved to be bittersweet because Federico lost Rancho Barras to pay legal expenses. In 1931, Jacabo lost his life after being shot while trying to collect a debt. Federico never got over the death of his son and died two years later bringing an end to the Villalba's time in the Big Bend.
"Federico Villalba's Texas" is an outstanding and well-told family story. It is an excellent read, one that Big Bend enthusiasts will greatly enjoy and want to have on their bookshelves. Casas has done a fine job of presenting the Mexican perspective in the frontier times of the Texas Big Bend. Although the author should have offered more detailed documentation, the research given appears to be sound for the most part. It is a story that simply needed to be told and begs discussion.
Gj
[ add comment ]
|
permalink
---
See:
http://www.odmp.org/officer/18000-field ... e-lorenzo-
(hod)-roberson
But there is more to his story. "Hod" Roberson lived by the gun and died by the gun. He should be more accurately described as a cold-blooded killer whose gun was for hire. Between 1911 and 1923 H. L. Roberson killed more than a few men in Texas and in Mexico. One probably inflated story claims he killed 38 men in his lifetime. Robertson first put on a Texas Ranger badge in 1911 at the age of 38 years when he joined Captain John Hughes' Ranger Company A in El Paso. Within months, the new ranger shot and killed a drunk Mexican at Calaro a village east of El Paso. Following the incident, Roberson spent some time exiled to the Texas Panhandle. Captain Hughes liked Robertson, however and appointed him to sergeant of A Company in 1913. In 1914, Roberson and Ranger Ira Cline tried to serve a search warrant on Carlos Morales Wood, editor of a Spanish language newspaper in Valentine. Although the Rangers shot Wood dead in very suspicious circumstances they were acquitted in a murder trial the claiming the editor had pulled a pistol on them.
Roberson resigned from the Rangers in 1914 and became the foreman of the infamous T.O. Ranch of Chihuahua. As foreman he led some dozen or so gun men that ran roughshod over the huge border ranch. The T.O. men controlled controlled a fair amount of the border north of Candelaria to El Paso on the Mexican side terrorizing anyone who got in their way. Pancho Villa and his agents did considerable business with the T.O. Ranch bringing many herds of stolen cattle and horses to the ranch to be brokered into Texas. About 1914, some said General Villa personally ran Hod Roberson and his men out of Mexico outside Ojinaga. Another account states that the Roberson gang were arrested and deported by Mexican soldiers for branding stolen Terrazas cattle. A short time later, Roberson and some twenty of his men shot and killed Febronio Calanche and Rodrogo Barragan as they slept on the Texas riverbank at the Los Fresnos Crossing north of Candelaria. Justice of the Peace J.J. Kilpatrick wrote of the incident, "I have always felt sure it was either Roberson who shot to death Barragan and Calanche or ordered it done".
Nothing came of the killings but in 1915, Roberson found himself on trial for more murders in El Paso. Details of the fatal shooting of Henry Foote Boykin and Walter Sitters are in my previous blog article. Here I offer some information about the Roberson murder trial.
Many Hudsbeth County ranchers did not like Hod Roberson. It is likely they did not appreciate the fact that he and the T.O. Ranch illegally brought thousands of cattle stolen in Mexico to Sierra Blanca to sell at very cheap prices. The T.O. Ranch engaged in very lucrative arms for cattle trade during the Mexican Revolution. At one point after U.S. President Woodrow Wilson imposed an arms embargo on Pancho Villa, stolen Mexican cattle brought only $5 a head in exchange for rifle and pistol cartridges priced at $1 per round. Honest Texas ranchers simply could not compete with these prices.
Following the Boykin and Sitters murders, Roberson was charged with murder and surrendered to some of his Texas Ranger friends in El Paso. He posted a $7,500 bond and entered a plea of self-defense. The sensational trial made front-page news in the El Paso newspapers as some of the finest legal minds in Texas met head to head in the district court room. On December 4, 1915, the jury found Roberson guilty of murder and he received a 20-year prison sentence. His attorneys quickly moved for a mistrial after one of the jurors admitted being a convicted felon.
Two weeks later, Judge Dan M. Jackson set aside this verdict and granted a new trial. In November 1916 another jury found Roberson guilty of manslaughter and gave him another five-year sentence. Again his lawyers moved for a new trial. When the judge denied the motion, Roberson's attorneys appealed the case to the Texas Court of Criminal Appeals in Austin that upheld the verdict. Six months later, the court reversed itself for unclear reasons and sent the case back to Hudspeth County for trial. In a change of venue, the case went back to the El Paso District Court in November 1919 where another jury convicted Roberson of manslaughter with a two year sentence. Roberson's lawyers moved for another trial and a change of venue. Finally in June 1920 a Travis County court let the gunman off the hook with an acquittal.
The curious part of all this is the fact that even during the midst of his considerable legal troubles, Hod Roberson retained various commissions as a Texas and Federal lawman. From 1916 until he was killed in 1923 he worked as a law officer as an inspector for the Texas Cattle Raisers Association while also holding an appointment as a Special Texas Ranger, Midland County Deputy and Deputy U.S. Marshall. Many Texas lawmen, including Texas Ranger Captain John Hughes, helped Robinson with money for his defense and posting his bonds. Looking back, this certainly does not speak well about the integrity of Texas lawmen of those days.
In April 1923, Hod Roberson and fellow brand inspector Dave Allison were sitting on the porch of the Gaines Hotel in Seminole, Texas. They were in town to testify at the trial of two rustlers. The evening before the trial, the rustlers attacked Roberson and Allison on the porch and killed both of them in a wild series of pistol shots and shotgun blasts. When she heard the shots, Robinson's wife ran downstairs from her room in the hotel and shot both of her husband's attackers with his small automatic back up pistol. Although wounded both rustlers escaped after bringing an end to the career of a gunman with a Texas Ranger badge.
Gj
[ add comment ]
|
permalink
---
While researching the burial location of my great-grandfather, Henry Foote Boykin, I came across your website listing his obituary in 1915. Since my grandfather, Henry Foote Boykin, Jr., was only three years old when his father was killed, he never could tell me a lot about his father. I wondered if you had any more information about H.F. Boykin that you could share with me. I look forward to hearing from you soon.
Thank you,
Tammy Labhart
Tammy, you are in luck as I have found a fair amount of information about the murder of your great grandfather, H. F. Boykin. H. F. Boykin was born May 3, 1875 and met a tragic death at the age of 40 years on January 16, 1915 in Sierra Blanca Texas. He and Walter Sitters, son of Texas Ranger Joe Sitters, were gunned down by Horace Lorenzo (Hod) Roberson, a Texas Ranger with a considerable reputation for the killing of many men. For more about Robertson be sure to search the blog archive for several articles including, "A Cold Blooded Killer With A Texas Ranger Badge". I am working a chapter in my new book, "More Little Known History Of The Texas Big Bend" about Roberson. Below you will find some 1915 newspaper articles about the murders of Boykin and Sitters. Also, there is more information about Roberson's murder trial in the El Paso Times/Herald. You can find copies of the newspaper microfilm files of the El Paso Public Library. Also, UTPB in Odessa has the Times on microfilm. Be sure to check out the excellent EPT index and vertical files at the El Paso library. Good luck with your research. If you have any family photos of your great grandfather, I would greatly appreciate a good copy to use in my new book.
Gj
SIERRA BLANCA MAN IS KILLED: ANOTHER IS WOUNDED BY CATTLEMAN FROM MEXICO WHO THEN LEAVES TOWN
Sierra Blanca, Texas, Jan. 16-17, 1915--H.F. Boykin, a prominent citizen of this place, was shot to death in the Texas & Pacific stock pens early this morning by H.L. Roberson, one of the foremen of the T.O. Ranch, in Mexico.
Roberson, also shot and seriously wounded Walter Sitters, of Valentine. It seems that Roberson had some cattle in the pens, which were placed in Mr. Boykin's pasture, north of this place, and Mr. Boykin insisted upon counting them before before taking them out. A quarrel insued, with the above results.
It is said that Boykin and Sitters were unarmed.
Roberson immediately left town.
Mr. Boykin leaves a wife and five small children, a brother and a host of friends here, and three sisters in El Paso. The names of Boykin's sisters are Miss Florence Boykin, at the Central telephone office, Mrs. T.C. Armstrong, and Mrs. B. Taylor.
EL PASO HERALD
JANUARY 16-17, 1915
WITNESSES TELL OF KILLING; HEARING HELD FOR ROBERSON SIERRA BLANCA TRAGEDY IN WHICH TWO MEN WERE SHOT TO DEATH IN DIFFICULTY OVER CATTLE IS AIRED BEFORE JUSTICE OF THE PEACE; BOYKIN HAD A SMALL KNIFE IN HIS HAND WHEN SHOT BY DEFENDANT
The hearing of H. L. Roberson on the charge of killing "Foot" Boykin and Walter Sitters at Sierra Blanca, this county, last Saturday, is in progress in the court of Justice of the Peace J. J. Murphy. Testimony was taken Monday afternoon and Tuesday morning and the hearing was then adjourned to the afternoon to await the arrival of more witnesses.
When the hearing was resumed at 10 o'clock Tuesday morning, the testimony of James Burns and William Bartzer, the two young men who were "beating their way" to San Antonio and saw the tragedy, was heard.
Burns stated that the men were quarreling when he and his friend got off the train. They went over to the stock pens, he stated, to see if they could get a job. When they came up, they saw Boykin on the fence, pointing his finger at Roberson. Roberson struck his hand with a rope, and when Boykin grabbed the rope, Roberson struck the hand with his pistol, he said, and then Boykin threw the rope into the lot. Roberson then rode around to the gate. In the meantime Boykin threw the rope over the fence. Roberson asked him to give him the rope, and Boykin refused, but another man climbed over and handed it to him.
Burns testified that he heard Boykin say: "Nobody but a ___ ___ ___ ___ or a coward would pull a gun".
BOYKIN "CAME AT ROBERSON."
He further testified that when Roberson came around the gate, Boykin came at Roberson and he started for him a second time before Roberson fired the first shot. He, Boykin, had something in his left hand-he did not know if it was a knife. Five shots were fired by Roberson, the last one as Boykin was falling.
To the state's counsel he stated that he could not remember what Robertson had called Boykin. Words were passed between them but in the excitement he did not catch all that was said. State's counsel reminded him that his memory had been pretty clear concerning the testimony he had given the counsel for the defendant.
Burns stated that he told the same story to the justice of the peace at Sierra Blanca and that at 2 p.m. on the same day had been told that he and his partner could go their way.
The testimony of William Bartzer was similar to that told by Burns. He declared he did not know whether Boykin had a knife.
The state was represented in the case, by Frank Fulle, assistant county attorney, and by R. E. Thomason, special counsel. The defendant was represented by Victor C. Moore.
THOMAS CROSS TESTIFIES
Thomas Cross, of Sierra Blanca, a witness to the tragedy, was the first witness. He stated that he and "Foot" Boykin and others went to the stock pens about 6 a.m. Saturday, January 16, to load some steers. While thus engaged some of the animals got mixed up with others in the pen and they were engaged in counting the animals when H. L. Roberson drove up.
"When Roberson, rode up he called out, 'What in the hell are you doing here?' He told Boykin to get out," he testified, 'Boykin told him he wouldn't and then Roberson and then Roberson said, 'You ___ ___ ___ ___ you will get out." Boykin called him the same name and told him he wouldn't get out." Boykin climbed up on the fence and Roberson then struck him with a rope. Then he pulled out his pistol and struck Boykin on the hand." The he asked for his rope and I handed it to him. Roberson rode around and into the corral and shot Boykin four times. Then he rode away."
Cross admitted to counsel for the defense that Boykin had a knife in his hand before Roberson hit him with the rope. He also admitted that he did not feel friendly towards the defendant.
HIT BOYKIN WITH ROPE
Elmer Norton, aged 14 years, another witness to the shooting, stated that when he came up, Roberson was telling Boykin to take back what he called him and Boykin refused. He stated that he saw Roberson hit Boykin with a rope and saw the latter pull the rope from his hand. He stated that he saw Roberson hit Boykin on the hand with his pistol, and then he saw Boykin step back into the corral. Roberson, he stated, rode around and came through the gate into the corral. Boykin moved towards him. Roberson's animal wheeled around and Roberson fired over his shoulder, he declared, the shot hitting Walter Sitters. Then he fired four more shots at Boykin, he stated, the last one being fired after Boykin hit the ground.
He admitted to counsel for the defense that there was considerable bad feeling in Sierra Blanca against Roberson. He also admitted that some indirect efforts had been made to influence his testimony. He stated that his father told him to tell the truth.
TOLD ROBERSON HE WAS UNARMED
To the attorney for the state he stated that Boykin had told Roberson he was unarmed. When Roberson fired the second shot Boykin kept moving from side to side as though attempting to dodge further shots, he declared.
William Norton, aged 17, a brother of Elmer Norton, corroborated his brother's testimony in its essential details. He was questioned concerning the feeling in Sierra Blanca against, "the T.O. people." Asked by the defendant's counsel if he had not been urged not to tell some things about the tragedy, he stated that two or three men had asked when the case was coming up. Later, he admitted that he had told them he was going to tell the truth.
FEELING AGAINST T.O.
"I, Norton, father of the two Norton boys, was the last witness examined during the afternoon. He was examined by the counsel for the defendant as to the feeling in Sierra Blanca and the "T.O. People". He stated that there was considerable feeling against them.
"Is it not a fact, Mr. Norton, that when I attempted to ask you earlier in the day about the affair in Sierra Blanca, you said you did not have time to talk to me?" asked attorney Victor Moore.
"Yes, I was summoned to the grand jury and testified."
Norton's testimony concerning the tragedy, which he witnessed, was similar to that of the witnesses who had d him. Concerning the knife, which Boykin is alleged to have held in his hand, the witness stated that it was a pocket knife with a blade perhaps two and five-eighths inches in length. He stated he had assisted in removing the clothes from the body of he dead man and said that the man was shot once in the back, once in the left side, once in the arm and once in the chest just below the neck.
ROBERSON HELD ON BOND
Judge J.J. Murphy announced Tuesday afternoon, following the conclusion of the preliminary hearing, the he would hold Roberson on a bond of $5,000 on the charge of having shot Boykin and $2,500 on the charge of having shot Sitters.
It is probable that Roberson will give the combined bonds of $7,500 pending the grand jury hearing and will be released.
EL PASO HERALD
JANUARY 19, 1915
[ add comment ]
|
permalink
---
http://www.youtube.com/watch?v=_Qap4uIOWUA
Gj
[ add comment ]
|
permalink
---
<<First
<Back
| 1 | 2 | 3 | 4 | 5 | 6 | 7 |
Next>
Last>>