TO MY READERS: HOW TO USE THE BLOG
Click Here
---
I love old maps and over the years have collected more than I can count. Old maps offer no small amount of little known information about people and places of the past. Sadly many old maps end up rotting away, their value as a historical research tool lost. My friend Charlie Angell is also an avid map collector. Sometime back, Charlie purchased a finely detailed 1850 map of Chihuahua by M. H. Du Pasquier De Dommartin. Despite its age, it is in pristine condition. The map is in the French language, the title translating in English to "Map Of Land Grants Obtained In Chihuahua by Decree Of April 11, 1852". It notes the locations of abandoned and inhabited presidios and villages, military colonies, "Routes de Ventures" or Roads to ventures and "Routes de Mulets" or mule routes. It is a truly fine map, beautifully detailed even showing latitudes and longitudes, remarkable for its time. Not a lot is known about the map maker, De Dommartin, The Frenchman may have written a book, titled "The United States and Mexico, European Interest In North America" but as yet I have been unable to locate a copy anywhere but still looking.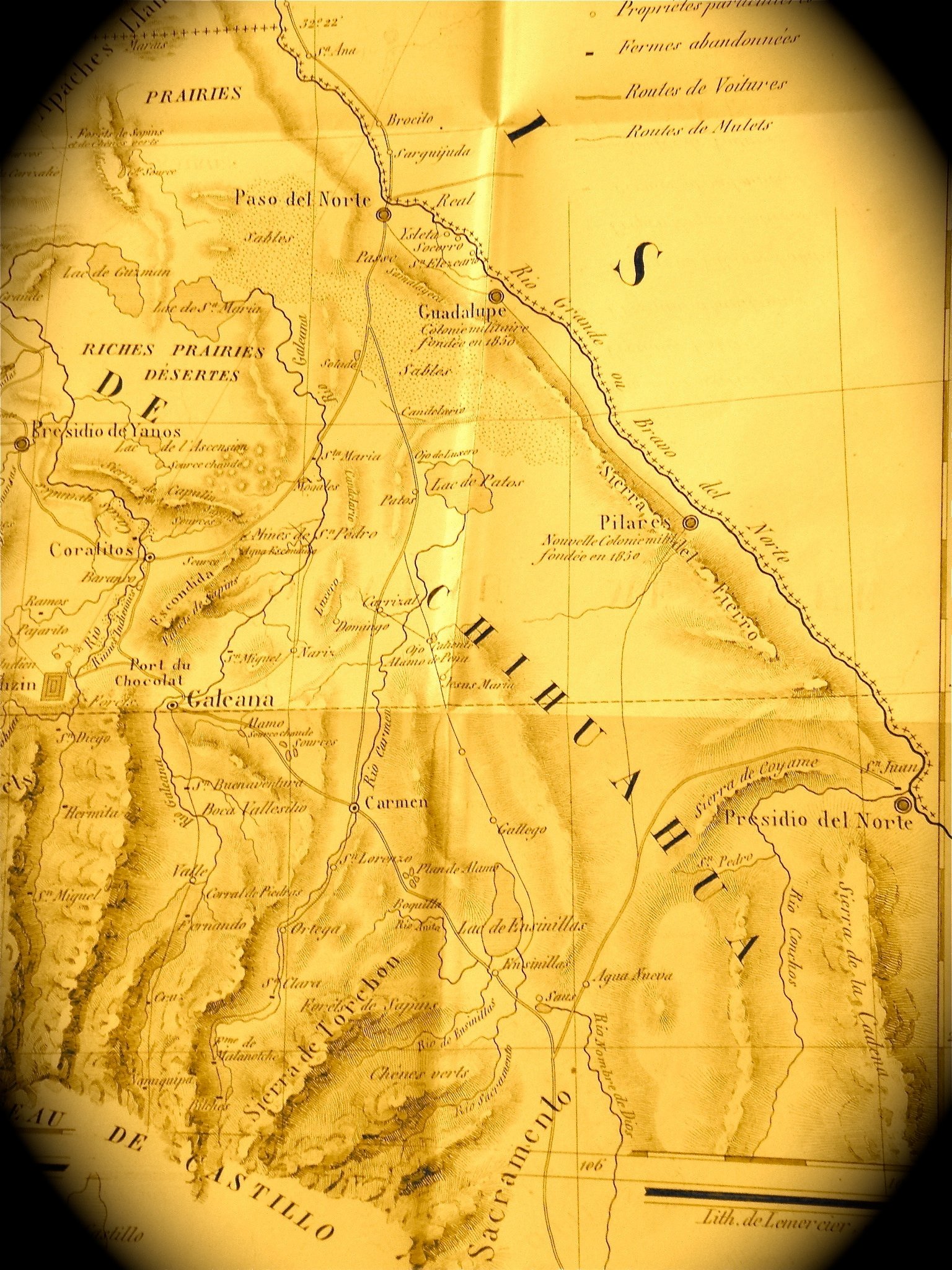 I found of particular interest the section of the map running along the Rio Grande from Paso del Norte to Presidio del Norte. In this section De Dommartin notes the locations of the 1850 occupied presidios along the Rio Grande including Guadalupe a short distance downriver from Paso del Norte. The Ysleta, Sorocco and San Elizario villages on the western banks of the Rio Grande are shown. This is a map of Chihuahua and does not extend to anything east of the Rio Grande in present day Texas. Guadalupe appears on the map with a symbol indicating it to be a military colony founded, according to De Dommartin, in 1850. Further downriver is Pilares noted to be on the map as being the location of the "Nonville Couonie" shown to be an occupied colony.
Pilares, its location and history has long been confused with Porvenir, Texas. Pilares, Mexico lies on the western side of the Rio Grande in Chihuahua not far downriver from Porvenir on eastern side of the river. More than a few maps show, in error, the location of Pilares to be on the Texas side. According to the Handbook of Texas, Pilares was the site of a presidio, penal colony and silver ore smelter. While several other accounts confirm document this, the Handbook article places Pilares on the Texas side of the Rio Grande.
see:
http://www.tshaonline.org/handbook/onli ... hrp87.html
The Handbook article notes a Spanish Viceroy designated Pilares to be a Presidio, penal colony and silver ore smelter in the 1750's. Both convicts and soldiers worked on farms at the colony. Although I have made several unsuccessful attempts to get this error corrected, the online Handbook continues to state that Pilares is in Texas. No houses or other structures stand at the site today. Only a few foundations mark the former locations of the adobes and jacales that the some 140 Mexican residents living there in 1918 called home. Porvenir had a school but no store, the closest mercantile being at either at the Brite Ranch or in Candelaria some thirty miles distant. Although many of the residents were U. S. citizens, a sizeable number had fled the Mexican Revolution from Chihuahua trying to find a more peaceful life along the river in Texas. Other Porvenir villagers, according to the 1910 U.S. Census were U. S. citizens. Several had recently moved to Porvenir from Pecos, Texas to farm cotton. About 1916, Hawkeye Townsend built a cotton gin at Porvenir utilizing old railroad timbers taken from the abandoned roadbed of the Rio Grande Northern Railway running from Chispa to the San Carlos Coal Company camp at Newman Springs.
Today an extinct community, Porvenir had only short life as a farming village that existed on and off for only a few years. It first appeared in the early 1900's when good cotton prices and the fresh plentiful water of the Rio Grande offered the promise of better times. According to Fred I. Massengill in his "Texas Towns: Origin and Location of Each of the 2,148 Post Offices in Texas" Porvenir got its name from early settlers and the name origin is from Spanish meaning "land of plenty". Massengill does not list a Pilares, Texas in his 1936 book. Porvenir was a peaceful border farming community composed of adobes and jacales. Porvenir had a school. In January 1918, forty mounted U.S. cavalry troopers, some five Texas Rangers and an unknown number of ranchers surrounded Porvenir and after searching the place took fifteen men and boys out into the darkness and shot them to death. The next morning, the cavalry troopers burned most of Porvenir to the ground. The survivors of the massacre fled to Mexico and Porvenir, Texas was abandoned for a time. Charles Deaton's "Texas Postal History Handbook" lists Porvenir, Texas, Presidio County, as having a post office established in 1926. Also, it is known that a ranch school operated at Porvenir in the 1940's. It has been speculated that some of the confusion between Pilares and Porvenir started after the village was abandoned and someone took the postage cancellation stamp to Pilares where letters continued to be stamped as being from Porvenir, Texas.
Gj
[ view entry ]
( 5056 views ) |
permalink
|
( 3 / 575707 )
---
<<First <Back | 5 | 6 | 7 | 8 | 9 | 10 | 11 | 12 | 13 | 14 | Next> Last>>